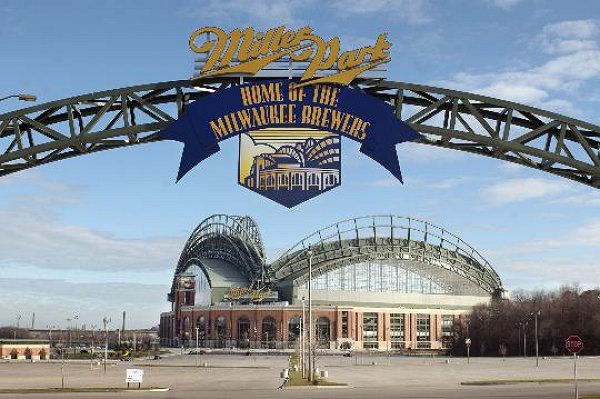 TEAM ::: MILWAUKEE BREWERS
LOCATION ::: MILWAUKEE, WISCONSIN
MY FIRST GAME ::: JULY 6,2003
OPPONENT ::: COLORADO ROCKIES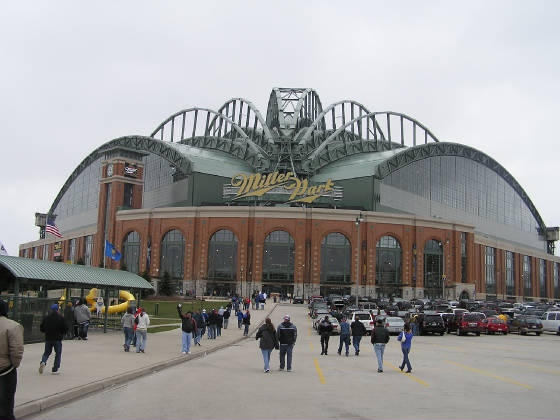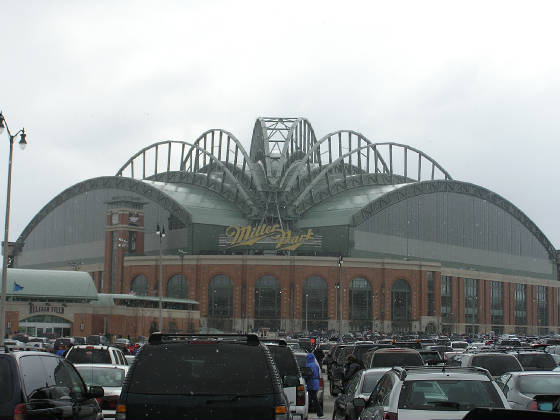 RATINGS
BALLFIELD ::: B+
SCOREBOARD ::: A
FOOD ::: A++
FACILITIES ::: A
MASCOT ::: A
MLB STADIUM RANK ::: 28 OUT OF 40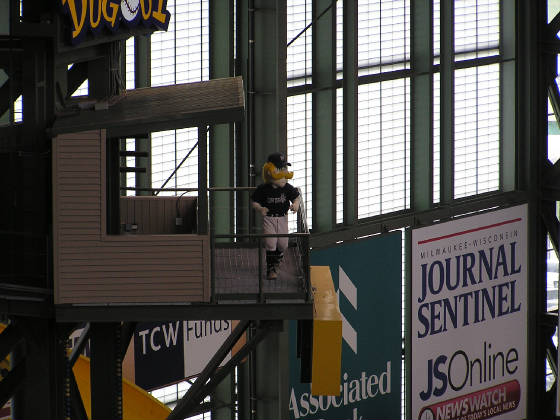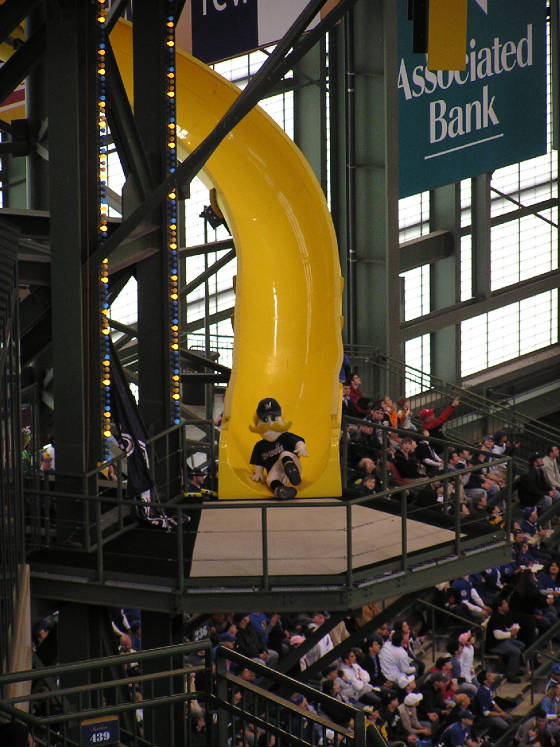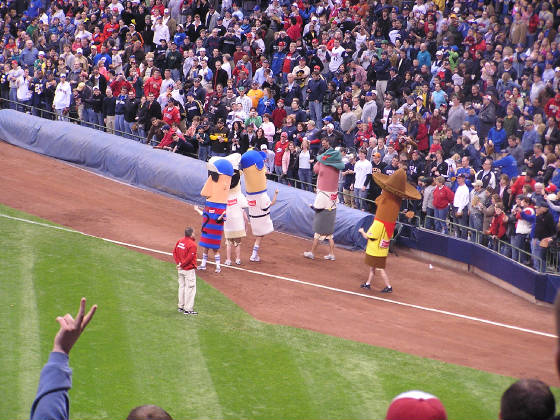 MY TAKE ON THE PARK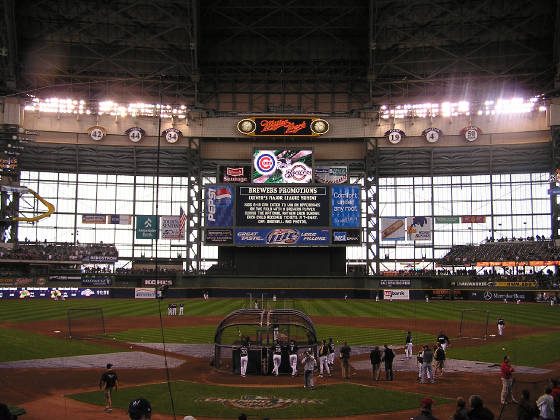 OH HOW I THOUGHT I WOULD HATE THIS PLACE. A HUGE DOMED STADIUM COULDN'T BE ANY GOOD ... WELL, I GUESS YOU COULD SAY I WAS DISAPPOINTED.

EVEN THOUGH THE PARKING ATTENDENT YELLED AT THE STADIUM TO OPEN THE ROOF, THE ROOF REMAINED CLOSED ON MY VISIT ... IT WAS ANNOUNCED, A SURPRISE FOR ME BECAUSE MOST PLACES WILL KEEP YOU IN THE DARK ON THIS, BUT THEY ANNOUNCED THAT DUE TO PENDING SEVERE WEATHER THE ROOF WOULD REMAIN CLOSED. THE PROBLEM WITH THE CLOSED ROOF IS THAT NO AIR CIRCULATES.

LOOKING AT THE OUTFIELD FLAGS, THE BREWERS FLAG BLOWS LIKE IT IS DISPLAYED ON A MARCH DAY. TO THE LEFT, THE AMERICAN FLAG HANGS AS IF IT IS A 100 DEGREE HUMID DAY. SADLY, THE AMERICAN FLAG IS THE FEELING INSIDE THIS HUGE DOME.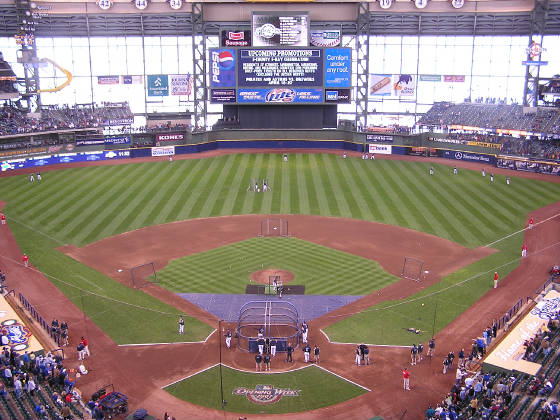 OUTSIDE OF THE THE LACK OF A POWERFUL AIR CONDITIONER MILLER PARK IS A PRETTY GOOD PLACE TO GO FOR A GAME. PARKING HAS 2 OPTIONS, A LONG WALK FOR $6 OR A SPOT RIGHT NEXT TO THE STADIUM FOR $12 ... NOT TOO BAD FOR A MAJOR LEAGUE GAME.

UPON ENTERING THE STADIUM 2 THINGS HIT YOU, THE WIDE OPEN AISLEWAYS WHICH APPEAR MUCH WIDER BECAUSE MILWAUKEE ISN'T DRAWING, AND THE FOOD. MILLER PARK DOESN'T HAVE THE BAKERY THAT COUNTY STADIUM HAD, BUT THEY DO HAVE THE BRATS AND THAT SECRET STADIUM SAUCE.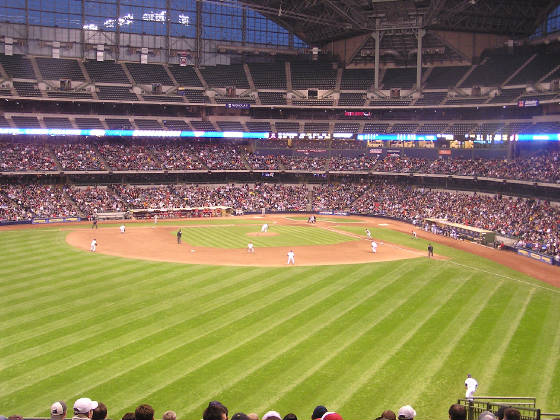 THANKFULLY SOME THINGS DON'T CHANGE AND THE FOOD AT MILLER PARK IS JUST AS GOOD AS THE FOOD AT COUNTY STADIUM. I JUST CANNOT DESCRIBE HOW ENJOYABLE AN EXPERIENCE IT IS TO EAT FOOD THAT IS JUST THAT GOOD AT THE BALLPARK. IF YOU HAVE TO WAIT ON A LINE FOR YOUR FOOD, NO WORRIES, BOB UECKER IS PLAYED THROUGHOUT THE CORRIDORS KEEPING YOU UPDATED ON THE GAME. HE REALLY IS ENTERTAINING TO LISTEN TO. THE DELICIOUS FOOD ALSO ALLOWS ONE TO OVERLOOK THE FACT THAT THE ROOF IS CLOSED ON A BRIGHT SUNNY DAY. AS AN ASIDE, THE WEATHER REPORT WAS CORRECT WITH LIGHTENING SEEN OUTSIDE DURING THE 6TH INNING.

MILLER PARK IS AN INTERESTING DOMED STADIUM, YOU HAVE A ROOF THAT DOESN'T LOOK AS BAD IN PERSON AS IT DOES IN PHOTOS BUT THE STADIUM IS SURROUNDED BY GLASS THAT ALLOWS YOU TO SEE OUT AND ALSO LET'S THE SUN SHINE IN. WHICH WOULDN'T BE SO BAD IF THE AIR CONDITIONING KICKED.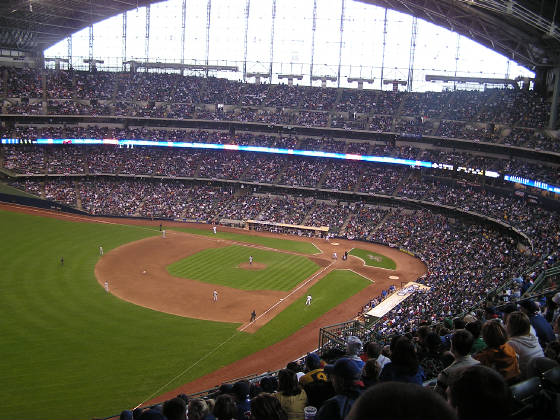 THE SCOREBOARD IS VERY GOOD AND NEVER LEAVES YOU WONDERING WHAT HAPPENED ALL THE WHILE KEEPING THE LINE-UPS DISPLAYED WHICH IS A VERY BIG PLUS FOR ME. NEXT TO THE SCOREBOARD SITS BERNIE BREWER. FOR A MASCOT, HE DOESN'T DO MUCH EXCEPT PUMP HIS FIST AND WAIT FOR A HOME RUN. THERE IS NO INTERACTION WITH THE FANS EXCEPT FOR THE FEW AUTOGRAPHS HE SIGNS FOR THE PEOPLE NEXT TO HIS LOFT. WHEN A HOME RUN IS HIT, A COUPLE OF FIREWORKS GO OFF AND DOWN THE SLIDE GOES BERNIE. HE THEN WAVES THE HIS BREWER FLAG AND CLIMBS BACK UP TO HIS LOFT TO WAIT FOR THE 7TH INNING STRETCH. WHICH IS STILL "ROLL OUT THE BARREL" .. BUT NOW THEY PLAY "TAKE ME OUT TO THE BALLGAME" FIRST.

A TRIP TO MILLER PARK ISN'T AS BAD AS YOU MIGHT THINK. GO WITH AN APPETITE BECAUSE YOU WILL NOT BE DISAPPOINTED. THEN AT THE END OF THE 6TH INNING, ROOT FOR YOUR FAVORITE MEAT DURING THE SAUSAGE RACE ... IT WOULDN'T WORK ANY PLACE ELSE BUT HERE.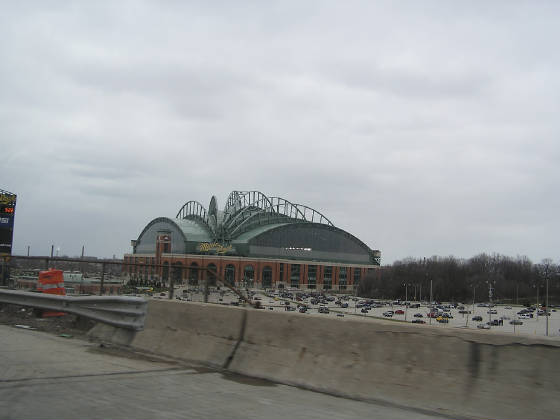 THE LINE UPS
ROCKIES MANAGER :::
13 CLINT HURDLE

BREWERS MANAGER :::
3 NED YOST

COLORADO ROCKIES
26 Mark Belhorne 2b
4 Juan Uribe ss
17 Todd Helton 1b
44 Preston Wilson cf
14 Greg Norton 3b
24 Jay Payton lf
25 Mark Sweeney rf
8 Bobby Estalella c
41 Denny Stark p
16 Jose Jimenez LP
MILWAUKEE BREWERS
20 Scott Podsednik cf
6 Keith Ginter 2b
5 Geoff Jenkins lf
11 Richie Sexson 1b
24 John Vander Wal rf
18 Wes Helms 3b
21 Keith Osik c
9 Enrique Cruz ss
15 Ben Sheets p / WP
48 Mike DeJean S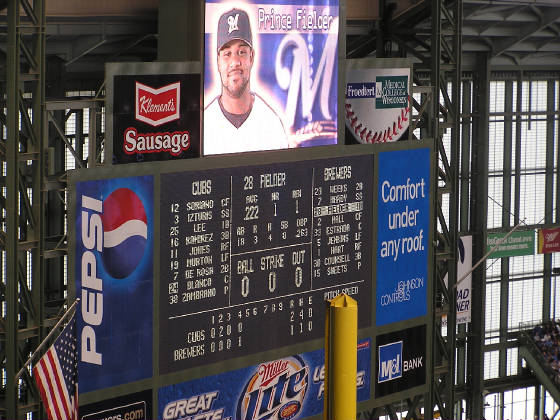 COLORADO ROCKIES 100 000 000 1 4 1
MILWAUKEE BREWERS 001 000 200 3 7 1

TIME ::: 2:22
ATTENDANCE ::: 21,623
WEATHER ::: Sunny & warm
ROOF :: CLOSED
SEND ME AN E-MAIL

LINKS
The Official site of the Milwaukee Brewers
The Previous home of the Brewers, my County Stadium site
Game Cast from my first at Miller Park
Located about 1/2 hour North of the park - Kopps Custard - The food is so good you may forget to leave room for dessert
Travel guide for Milwaukee by MSN
Milwaukee weather from WEATHER.com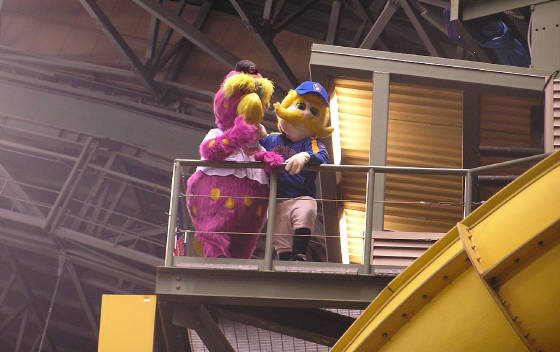 © 2000-2012 UNCLE BOB'S BALLPARKS
I AM IN NO WAY AFFILIATED WITH ANY OF THE TEAMS ON THIS PAGE ... THIS PAGE IS MEANT FOR INFORMATION PURPOSES ONLY.